Maritime News Round up – Issue 13
27 - 31 July 2020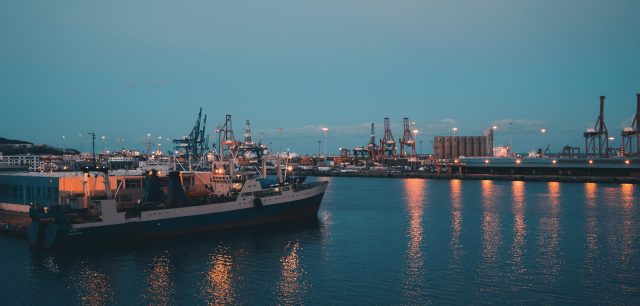 Maritime and Future Fuels
Weekly Broker: Dry bulk bottoms out

Dry bulk looks like it has finally bottomed out this week, but owners have been slow to follow up with tonnage acquisitions. Tanker fortunes remain in the doldrums with limited appetite among buyers while a solidifying chartering scene has seen containership acquisitions pick up. Splash247 

Global interest for Hydrogen soars as Hydrogen council grows to 90+ members 
The Hydrogen Council, a global CEO-led coalition working to enable the global energy transition through hydrogen, has today announced 11 new members. The group of new joiners includes two steering members: CMA CGM and Microsoft; seven supporting members: Baker Hughes, Clariant, MAHLE, NYK Line, Port of Rotterdam, TechnipFMC and Umicore; and two investors: Mubadala Investment Company and Providence Asset Group. Hydrogen Council 
Ammonia-Fuelled Tanker Moves Step Closer to Reality
The vision to create an ammonia-fuelled tanker has moved a step closer to reality this week after Hyundai Mipo Dockyard (HMD) said it had received Approval in Principle (AIP) from Lloyd's Register for its design. The 50,000 dwt MR tanker is expected to be a commercial reality by 2025. Ship & Bunker 
Anonymous bunker insider complains of trading 
companies
 living hand to mouth on low margins
A bunker trader has written an open letter warning that problems are being stored up for the industry by trading firms being forced to accept unsustainably low margins because of this year's drop in demand. Ship & Bunker 
Hydrogen's Future May Follow Path Blazed by Natural Gas
For a glimpse into the future of a hydrogen-fueled world, look no further than natural gas and the technology that rapidly transformed it into a global commodity. 
Following natural gas's lead, Japan is preparing to trial imports from Australia of super-chilled liquid hydrogen. German energy utility RWE AG is promoting hydrogen in a planned liquefied natural gas terminal, while Britain's National Grid Plc is exploring options for the fuel at its LNG port near London. Bloomberg  
Taking a lead on green hydrogen
DFDS head of innovation and partnerships Jakob Steffensen explains the importance of acquiring knowledge and skills early to ensure a smooth migration towards future fuels. Riviera 
Could shipping be entering its second age of steam?
Engineering startup Steamology recently won UK government innovation funding of £400,000 for 9 months for a rail freight project that could open the doors to similar work in shipping. Maritime Journal
Analysts: Temasek Might Drop $3B Bid to Acquire Controlling Stake in Keppel
Temasek Holding's $3 billion bid to acquire a controlling stake in Keppel Corp will be under scrutiny on Thursday as a big quarterly profit drop at the conglomerate could raise the risk of the state investor dropping its proposal, analysts said. Keppel last week warned that material impairments relating to its offshore and marine segment (O&M) would hurt profits, which analysts say could breach so-called material adverse change (MAC) clauses of Temasek's offer. MarineLink 
2020 and scrubbers: The year everything changed 
'We never got the chance to see how things would have developed before the coronavirus crisis hit. Those that had invested in scrubber technology were happy, but Covid-19 has overshadowed everything since – it hit our core customers, so it has hit us,' says Yara Marine Technologies COO, Ina Reksten. Bunkerspot
Mission to Seafarers Reports "Seafarer Welfare Crisis" Due to COVID-19
The Mission to Seafarers' latest Seafarer Happiness Index survey shows growing levels of stress and unease amongst the seafaring community due to the COVID-19 crisis, the maritime charity reported Wednesday. An estimated 200,000 to 300,000 seafarers are stuck on board because of government policies that prohibit regular crew changes, and even those who are still within their normal contract periods are feeling the pressure, according to the survey. Maritime Executive
Digitalization
Are smart ports progressing or treading water?
The current escalation of digitalisation and IT development has been given a new lease of life under the new normal resulting from Covid-19. Digital applications are playing an increasingly important role in help control the spread of the virus. Essentially this is being done via Covid tracing applications as well as facilitating business activity through e-commerce and blockchain.  Splash247 
Developing a new generation of e-navigation tools
Wärtsilä's evolutionary e-navigation technology facilitates electronic data exchange between ships and ports. Wärtsilä e-navigation developments are part of the industry's drive to implement just-in-time (JIT) port arrival to improve voyage planning and execution, reduce fuel consumption and emissions and optimise port operations. Riviera  
Wilson Sons invest in connectivity and CCTV for enhanced security
Brazil-based Wilson Sons is installing closed circuit TV (CCTV) and wifi networking on its tugboat fleet as part of its ongoing digitalisation programme to improve security, enhance operation transparency and tug performance. Riviera 
Events
Methanol Institute to host webinar
The Methanol Institute (MI) will be hosting a webinar entitled Renewable Methanol: A Carbon-Neutral Fuel next month. The webinar will take place on 5 August at 1500 CET. Register 
CMA shipping event for 2020 goes online in light of Covid-19
The Connecticut Maritime Association's (CMA) CMA Shipping 2020 Conference and Exhibition will be delivered as an entirely virtual event as part of the first ever North American Shipping Week to be held from 12-16 October. 
Global Bunkering Summit 2020 – Virtual Event
Shipping and bunkering are true 'contact sports', where personal interaction and shared experience are every bit as important as the information gathered from industry events – or given the current restraints caused by the coronavirus – online seminars. But while travelling to attend overseas conferences is impossible at present, the need and desire to communicate with the outside world has never been stronger. 
Register for this free event: https://www.petrospot.com/events/gbs-2020 
Interested in last week's News Roundup? Read all now
Be the first to see Bulugo's Roundup: Register your email and receive it directly to your inbox
You may also be interested in
E-procurement onboard vessels: Bulugo and FrontM partner to further digitalise shipping
Bulugo partnership agreement that gives sea-going personnel the ability to procure bunker fuel and lubricants, digitally, onboard their vessel.
2 Min read
Marine Digitalisation: Buy or build your own technology?
Gone are the days when a decision was needed to embrace digitalisation or not. Digital initiatives have supercharged the maritime sector in abundance over the last couple of years. The question now is whether you should buy the technology you need from a third party or build it yourself.
4 Min read