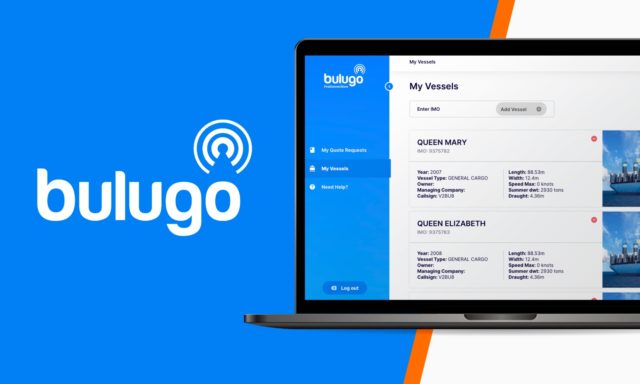 If you look at the bigger picture, shipping accounts for 90% of global trade and there are nearly eight billion people living on this planet. A number that's growing every year. The pressure on the shipping industry to move fuel, medicines, food and clothing around the world isn't going to change. Due to this added pressure, the maritime world needs to find new innovative ways to thrive.
The time to modernise is now; if you're not progressing then you're retreating. Marine has always been seen as a traditional industry and it's never easy to transform a sector on a global scale, but now is the time to get smarter. Innovation is going to be fundamental to this. We're now seeing a shift with digital transformation on every board agenda, globally.
Organisations are now reassessing all their strategies – from fuel strategy, ship evolution, greener shipping to operational efficiencies. Digital wasn't in the same spotlight 10-15 years ago but now there is an acknowledgement that technology will help in all of these areas; and more.
Digital procurement is just one part of the eco-system and a way that buyers and suppliers can optimise their operations.
Since 1999, there has been a number of platforms to help streamline fuel purchasing online – but they tended to morph into a traditional broker or disappear altogether. There are many reasons it didn't work then – but will do now.
Firstly, 10 years ago, we weren't so connected: the infrastructure literally wasn't in place on a global scale. Even some first world countries didn't have countrywide high-speed internet access. By comparison, in today's world, we are very connected. It's easy to connect to the internet any- where. The infrastructure has evolved so much that it's now possible for a large global software as a service (SaaS) platform to be used by everyone on a level playing field. This has been demonstrated recently with the outbreak of COVID-19, where the impact has gone global. The industry has seen a slowdown in economic activity, depressed shipping traffic, industry exhibitions being postponed, travel bans in place and many countries in lockdown. However, we've all managed to stay connected via various communication platforms. For those remote working, video conferencing played a huge role in enabling global organisations to keep going. Present-day infrastructure was a key enabler to the success of these technologies. And, as a result, it's expected many organisations will continue to embrace technologies like this after witnessing the benefits first-hand.
Secondly, looking at the industry in general, a digital platform wouldn't have gained traction because it pushed against the grain. It was too different compared to the standard way of doing things. Today, as consumers we use smartphones, laptops and tablets in our everyday lives. We're used to ordering goods online, making hotel bookings and reconnecting with colleagues via social networks. There's an ongoing evolution and disruption of e-commerce across many sectors.
Digital has significantly affected our personal lives and with those experiences comes the expectation of convenience and speed within the workplace too. This is especially true for the newer technologically-oriented generations joining the marine industry. Technology is second nature to them, and they expect organisations to have embraced progressive ideas. For them, digital is the norm not the exception.
Organisations are looking for smarter solutions to enhance their operations. They are open to new ideas and starting to make changes. There are many benefits of technology over and above the obvious: speed, effectiveness and agility. Digital procurement, for example, streamlines and simplifies processes to boost productivity.
Operators can make better decisions on product availability, competitive price and supplier offer. Then, on the flip side, suppliers can connect with more customers and more easily access the whole market, which they previously may have been locked out of due to not having long-standing relationships with certain buyers.
Keeping the human touch
Within an industry like marine, business deals are in the millions and billions of dollars with rapidly changing prices. Due to this, customers frequently have their preferred suppliers, often due to credit terms, and a quick conversation with someone they know leads to a transaction being completed. In fact, most communications are still sent via email, instant message or conducted by phone.
Technology won't completely replace this. It's important to still be sensitive to the human interaction needed and the relationships built over many years.
Digital procurement takes the path of least resistance: it's supporting rather than forcing a new process. Bulugo, for example, encourages interactions between suppliers and customers with built-in instant messaging functionality. These relationships will always be crucial but the trades themselves and operational details can be executed with technology. It's designed as a lubricant to the deal, rather than an additional hurdle.
The buyers and suppliers can then spend more time developing those relationships rather than focusing on processes.
Environmental challenges and opportunities
The International Maritime Organization (IMO) has set some very challenging commitments to reduce greenhouse gas (GHG) emissions from shipping; at least 40% by 2030 and a minimum of 50% by 2050 (compared to a 2008 baseline). In recent months, we have already seen some seismic shifts as the industry transitions to a low-carbon future.
Pre-2020, most operators would choose from a relatively small number of fuels, be that an RMG, RMK or DMA. Over the last few years, there has been a steep decline in intermediate grades such as RME 180. Post-2020, with the wider proliferation of scrubbers, we are seeing an HSFO and VLSFO market develop. Even within the VLSFO pool, there are distinctive fuel type clusters:
Cluster 1: 5 to 50 cSt
Cluster 2: 80 to 240 cSt
Cluster 3: 300 to 380 cSt
All of which adds complexity to the fuel's procurement process with the knock-on challenges of matching the appropriate lubricant for particular fuel characteristics.
Looking ahead there has been much discussion across the industry on how best to achieve the 40% reduction in GHGs by 2030. Core to this discussion has been alternative fuels and emerging innovations.
"Bulugo encourages interactions between suppliers and customers with built-in instant messaging functionality. These relationships will always be crucial but the trades themselves and operational details can be executed with technology"
LNG has been around for many years, but the 2030 commitment is what was needed to establish it as a mainstream fuel. More transparency around the cost implications of LNG bunkering is likely needed too before gaining greater adoption.
Biofuels have been used in road transport since the 1970s, with countries like Brazil pioneering flexi-fuel cars. Many countries now have mandates in place to blend biofuels into regular gasoline and diesel.
Up until now the aviation and marine industries have lagged behind road transport. However, it won't be like that for much longer, especially when leading operators like MSC are driving change. The second-largest container company in the world has committed to a 30% blend of biofuels, a notable step change. Whilst the use of biofuels in themselves won't allow the marine industry to hit the 2030 target, it will be a useful addition to its armoury.
During IP Week in London in February, other alternative fuels were debated including hydrogen, ammonia and fuel cells. Whilst the common use of these fuels is still some way off, it does give a sense of the scale of change that is required to meet the IMO commitments.
With all the industry focus and effort required to rise to these challenges, digital and technology-led solutions are key to simplify and streamline day-to-day processes. Bunker fuel and lubricant procurement will be no exception.
The new normal
So, the tide seems to be turning across maritime. Over the last 10 years we have witnessed advances in technology, transacting over smart phones becoming second nature and sound global infrastructure. The maritime industry keeps innovating to solve problems with digital becoming a crucial enabler for the industry. Taking a business standard process like the procurement of bunker fuel and lubricants is more accepted. We can simplify and streamline the process, turning it into an online user centric experience – removing the operational admin while suppliers and customers build new and strengthen existing relationships.
It will be interesting to see how the journey progresses as we all embrace technology at a faster pace than we have ever done before.
Article previously published in Bunkerspot Magazine, May/June 2020.
You may also be interested in
The Tug of War & Bunker Prices
As tensions between Russia and Ukraine continue, the shipping industry is feeling the effects in a major way.
2 Min read
Request Bunker Prices on-the-go
Why a What's App Chat Feature is Essential for the Shipping Industry
2 Min read