E-procurement onboard vessels: Bulugo and FrontM partner to further digitalise shipping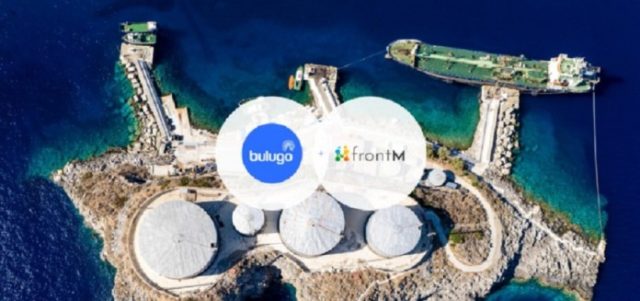 Bulugo and FrontM have concluded a partnership agreement that gives sea-going personnel the ability to procure bunker fuel and lubricants, digitally, onboard their vessel. It's a collaboration that is intended to enhance FrontM's marketplace offering by bringing e-procurement directly to remote customers.
The new procurement integration will be freely available to all existing customers and their fleets, globally.
The crew will be empowered to connect with new suppliers, seek quotes, assess responses, negotiate price, and make informed decisions on fuel and/or lubricant offers, right there and then.
Furthermore, for those dealing with engine issues and corrosive wear, this provides a convenient and straightforward way to order lubricants, enabling them to take corrective action more quickly and helping to minimise costly failure or expensive unplanned maintenance.
Lisa Moore, Chief Commercial Officer, FrontM – the digital marketplace platform commented: "As more shipping companies and operators leverage digital and platform technologies to obtain and automate their purchasing and workforce automation processes, we believe the alliance with Bulugo enables our clients to better align their purchasing requirements during their online fuel procurement process. The combination of FrontM's marketplace approach to service consumption and Bulugo's fuel quoting and procurement delivery platform offers our partners and their customers a transformative shopping experience by reducing procurement lead times and providing time-critical quotes that match them to the best carrier."
Peter Rossi, Founding Director, Bulugo commented: "Digital behaviours are constantly evolving with e-commerce and onboard solutions being a big part of the digital shift. This is an ideal enhancement for existing FrontM customers and for those operators who make spot purchases, especially, where flexibility is key due to limited route planning or tramp trade. Bulugo is now at the heart of vessel activity.  As partners, Bulugo and FrontM can leverage each other's expertise – in shipping and technology – to transform ways of working."
Rossi continued, "Bulugo was built to be secure and scalable. We are a platform that integrates at the core of the Maritime ecosystem, and FrontM is a perfect example of this. We are excited to collaborate with their global team to maximise the value delivered to shipping companies through their advanced onboard solution."
For further information about Bulugo or FrontM please get in touch: Contact Us
You may also be interested in
The Tug of War & Bunker Prices
As tensions between Russia and Ukraine continue, the shipping industry is feeling the effects in a major way.
2 Min read
Request Bunker Prices on-the-go
Why a What's App Chat Feature is Essential for the Shipping Industry
2 Min read